How to choose good pet software to grow your business?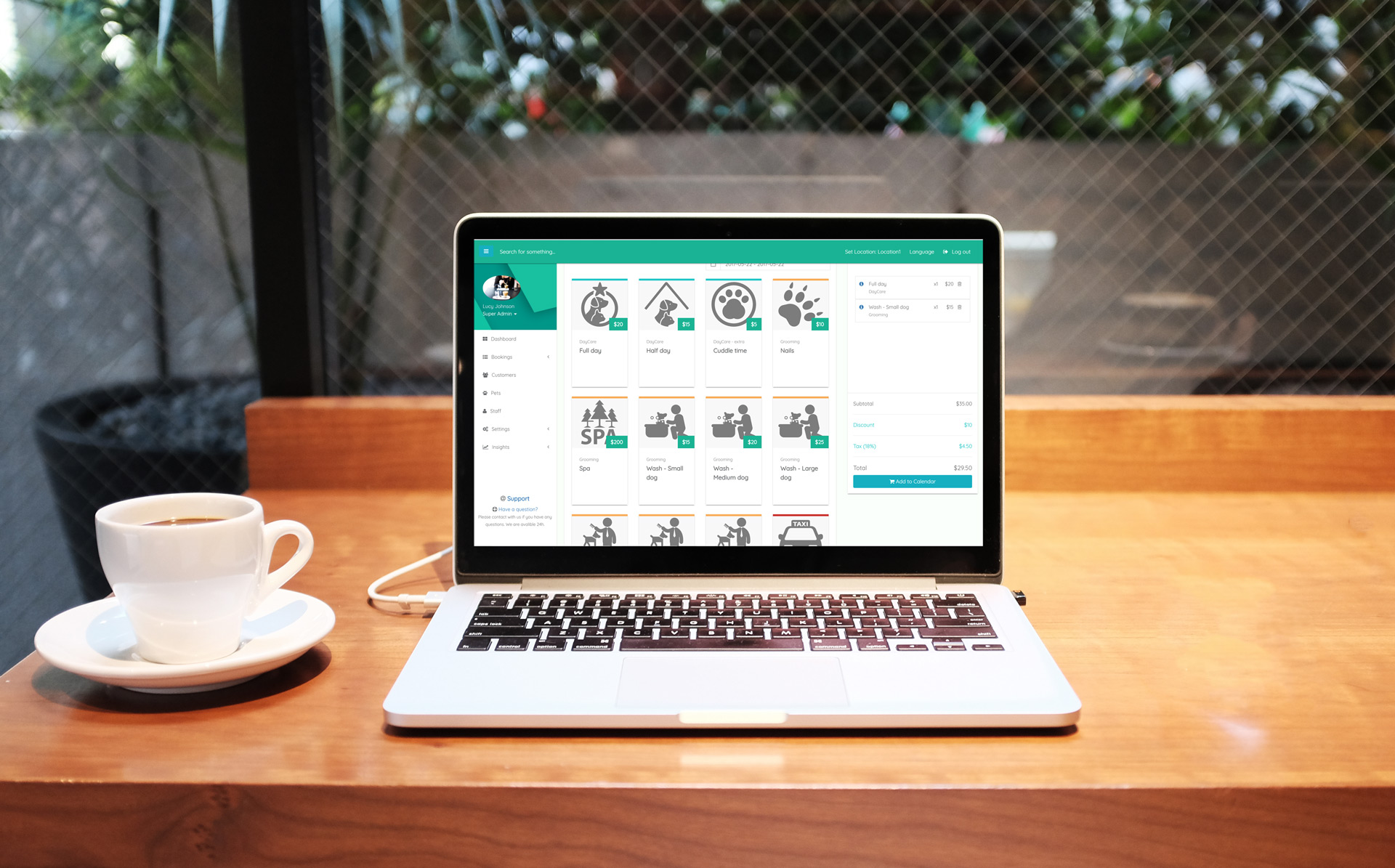 If you run your own pet business then you'll know that administration and paperwork can be very time consuming. Tasks such as tracking bookings, storing customer information, working out pricing and class schedules and sending invoices can start to take over and it's so easy to let your to-do list get out of control.
To stop this happening, many animal business owners decide to invest in good pet software to automate their processes and make it quicker and easier to keep on top of admin.
Whether you own a dog hotel, dog grooming parlor or offer dog walking services, there's software out there just waiting for you to start using it.
This article explores the different types of pet software that are available on the market and how to choose the best program for your business.
Explaining the different types of pet software
Installable computer software
Installable software means computer programs that you buy and install manually on your computer. This is the most 'old school' version of pet software and it has several drawbacks.
Pet care computer software can be expensive to purchase and complicated to install and setup. You may have to purchase separate versions for each computer you want to put it on. This can work out very costly if you have multiple computers.
As it lives on your own computer, it means you can't access it from anywhere else – not ideal if you run a mobile pet care business.
Software updates may need to be applied regularly which is time consuming, complicated and often comes at a cost.
Whereas once pet business owners were limited to installable software, there are now more modern options which can be easier and more effective.
SaaS (software as a service)
SaaS stands for 'software as a service' and it's a very popular model for business software. The software is 'cloud based' which means it runs in an internet browser. Updates are all applied automatically in the background – you don't have to manually update or pay for updates.
Many SaaS products are subscription based, making them incredibly cost effective for pet businesses. Rather than a large upfront cost, you just pay a small monthly fee.
One of the big benefits of SaaS products is that all you need to use them is an internet browser. You can access the software on any computer, laptop, tablet or phone. This is ideal for pet businesses where you might be visiting clients or working in different locations.
Another plus of SaaS products is that they can be linked to other products. So, for example, you could link your pet booking software to your accounting software to automatically generate invoices or send confirmation emails when someone places a booking.
Mobile apps
Mobile apps are like SaaS pet products in that they can be used on different devices (mobiles/tablets) and often use the internet, however they can be fairly basic and not offer advanced functionality.
If you are a dog walker or dog groomer then mobile apps can be a highly suitable option. However, due to the limited features mobile apps can become limiting as your business grows and you may find that it doesn't have all the functionality that you need.
If that happens, you should consider moving to a SaaS based system.
How to choose good pet booking software?
If you're trying to decide which pet software to choose for your business, here are some things to take into consideration:
Think about the pet services that you offer and exactly what you need the software to do. If you run different services (e.g. dog day care and dog grooming) then you should check that the software can cope with this. Try to find one software that has all the modules integrated into one system rather than purchasing different products for each of your services.
Take note of the size of your business and whether you are planning to expand. If you are, choose scalable software that can be implemented in new locations or that you can add new users to in case you employ staff members.
Some systems charge for additional users, so make sure you know how many licenses you will need if your employees should have access to it.
If your employees will need access, you may wish to investigate privacy settings. You might not want your employees to see the financial information about the business and only have access to the information they need to do their jobs such as bookings or client contact information.
The system should offer website integration. After all, it's not just you that will be using it, but your customers too! Adding the ability for people to book your services directly from your website makes it super easy for consumers.
Look in to the levels of customer service that are offered. What happens if you have a problem or if something stops working? If you have questions about the software then use the customer support to find out the answer. The response time and quality of the answers you receive should give you a good indication about the company's support levels.
Always test the software before you commit to purchase. Most reputable pet software companies will allow you to take a free trial.
Take your time when choosing which pet software to use for your business. It's better to spend a bit longer finding the perfect system for you rather than jumping in and finding out a couple of months down the line that it can't do everything you need it to.
It can be daunting to start with a new system, but keep at it – once you get the hang of it you'll wonder how you ever managed without it!